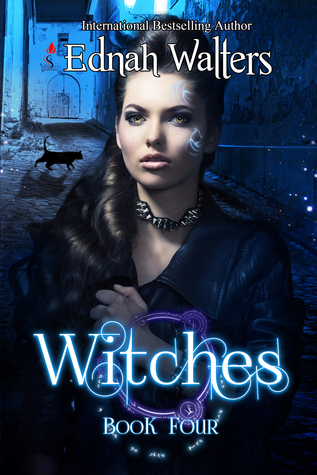 Title:
Witches
Author:
Ednah Walters
Series:
Runes #4
Release Date:
March 17th, 2015
Format:
Paperback & Ebook
Publisher:
Firetrail Publishing
Source:
complimentary copy in exchange of an honest review
ADD TO
GOODREADS
The Norns think they've won,
but it's hard to control a teenager,
let alone a powerful one…
Raine Cooper's life should be perfect. She's an Immortal Seeress, most likely to be elected Prom Queen, and envied by the girls at Kayville High for dating the dreamy quarterback, Torin St. James. Instead, she's haunted by the smug facial expressions the Norns' wore during their last meeting.
As a Norn-In-Training, Raine crossed the line long ago when she sided with the Valkyries and Mortal Witches. When the Norns return with demands of their own, Raine feels trapped. She must repair the battle grounds and wipe out the memories of every Mortal witness. Torin tries to convince her that the Norns are manipulating her, but she refuses to listen. At least until the Norns' demands focus on someone she loves. When Raine refuses to cooperate with them, their punishment is swift and gut-wrenching, turning her pain into fury.
Raine plots revenge on a massive scale and makes deals with unsavory allies. Her goal? Total destruction of the entire Norn race. Raine's only hope of salvation is Torin, but how much will he sacrifice to save her?
AMAZON
|
B&N
EDNAH WALTERS grew up reading Nancy Drew and the Hardy Boys and dreaming of one day writing her own stories. She is a stay-at-home mother of five humans and two American short-hair cats (one of which has ADHD) and a husband. When she is not writing, she's at the gym doing Zumba or doing things with her family, reading, traveling or online chatting with fans.
Ednah is the author of The Guardian Legacy series, a YA fantasy series about children of the fallen angels, who fight demons and protect mankind. AWAKENED, the prequel was released by Pill Hill Press in September 2010 with rave reviews. BETRAYED, book one in the series was released by her new publisher Spencer Hill Press in June 2012 and HUNTED, the third installment, was released March 2013. She's working on the next book in the series, FORGOTTEN. Visit her at
www.ednahwalters.com
.
Ednah also writes YA paranormal romance. RUNES is the first book in her new series and there are currently three other books published in this series. SOULS (Grimnir book 2 a side story to the RUNES series) and WITCHES book 4 will release 2014. Read more about this series and the world she's created here
www.runestheseries.com
.
Under the pseudonym E. B. Walters, Ednah writes contemporary romance. SLOW BURN, the first contemporary romance with suspense, was released in April 2011. It is the first book in the Fitzgerald family series. Since then she has published five more books in this series. She's presently working on book seven. You can visit her online at or
www.ebwalters.com
.
I will never get tired of saying how awesome this series is. Each book written by Ednah sets the bar higher for the next book and Witches is everything I expected and more.
Witches tells events that happen simultaneously with the ones in Souls (Cora's book) and I think this was a smart move from the author. Runes universe has gotten so big and complex that is understandable that so much action was occurring while we were reading about Cora's adventures.
This time we don't have a growing pace and the action doesn't come only at the end. From page one there is action and it doesn't stop until the last word. Each chapter brings a new revelation, a new complication and poor Rain doesn't have a second to breathe. I love the intensity, the sense of danger always present, the adrenaline pumping constantly. It was almost impossible to put the book down.
Now, let's talk about the characters. Rain has grown so much since the first book not only emotionally but now her powers reach a whole new level and there's no doubt of how important she is. Each god, Norn, witch and others have their eyes set on Rain and this adds only more intrigue to the story. She has not only embraced her powers they are now an essential part of who she is.
Torin has learned to control his possessiveness towards Rain. He still is a bit bossy but we love that about him. It's incredible how perfect he is (I'm sure there are a lot of girls and women who dream with a sexy, protective, romantic and amazing man like him).
A character that takes a bigger role is Ingrid, another excellent choice by the author. I can't wait to know more about her.
I absolutely love Rain and Torin's relationship and this new stage they are at is breathtaking. Everything they went through has brought them closer and closer, and their bond is almost unbreakable. They know each detail about the other and is obvious that they are one soul in two bodies. They are meant to be together forever (and I hope they do eventually). I loved the sexual tension present in this installment; it was time that their relationship got hotter because they really love each other.
Overall, Witches proves once more that Ednah has an exceptional writing style and the imagination to write a dozen more books for this series.