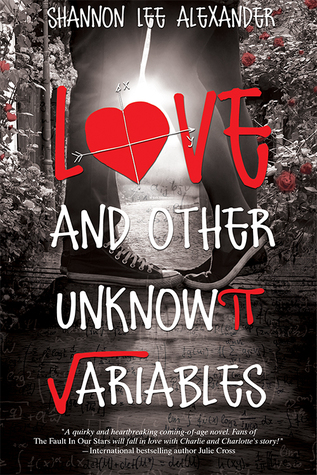 Title:
Love and Other Unknown Variables
Author:
Shannon Lee Alexander
Release Date:
October 7th 2014
Format:
Paperback & ebook
Publisher:
Entangled: Teen
Source:
complimentary copy from the publisher via
+NetGalley
ADD TO
GOODREADS
Charlie Hanson has a clear vision of his future. A senior at Brighton School of Mathematics and Science, he knows he'll graduate, go to MIT, and inevitably discover solutions to the universe's greatest unanswered questions. He's that smart. But Charlie's future blurs the moment he reaches out to touch the tattoo on a beautiful girl's neck.



The future has never seemed very kind to Charlotte Finch, so she's counting on the present. She's not impressed by the strange boy at the donut shop—until she learns he's a student at Brighton where her sister has just taken a job as the English teacher. With her encouragement, Charlie orchestrates the most effective prank campaign in Brighton history. But, in doing so, he puts his own future in jeopardy.

By the time he learns she's ill—and that the pranks were a way to distract Ms. Finch from Charlotte's illness—Charlotte's gravitational pull is too great to overcome. Soon he must choose between the familiar formulas he's always relied on or the girl he's falling for (at far more than 32 feet per second squared).
AMAZON
|
B&N
|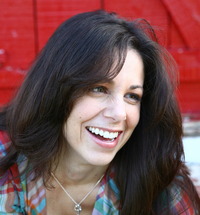 Once in a while we get the chance to read a book that stays with us long after reading it. Love and Other Unknown Variables is one of those books not only because it touches you at deep levels but also because the characters become real while you are reading.
Charlie had all his life figure out before knowing Charlotte. This girl comes and put his world upside down showing him that to live is more than just breathing.
This is a book about love, friendship, loss, grieving and people. How people touch and change every life that crosses our way. It's a book about how much we need others to be happy and how much we truly expect from life.
The author uses the words to create a real and palpable world. Where the dialogues sound believable, the characters have defined personalities and each scenario comes to life through her magical words.
Both main characters feel human and their love and sorrow is transmitted in a magnifical way. It's impossible not to laugh or cry with this two and it's even more imposible not to like them.
Books and drawings are a relevant element in the story and for me that makes it more especial. Book lovers will find the quotes inspiring and lovely.
Also, because Charlie is a Math geek there are many mathematical resources used to explain things. I find it really hilarious and very original.
I do have to say that once the big secret is revealed I was torn between two really opposite feelings, one was disappointment and the other surprise. I don't want to spoil anything but I'm sure you will understand when you read it.
Overall, this is a marvelous YA contemporary book about life and the fights we have to face. It's about the good and the bad but above all it's about LIVING.